Missing dog Benji found after £800 search in Swindon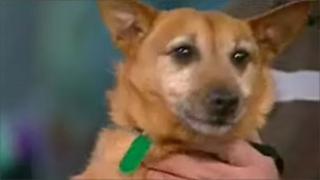 A couple from Swindon who lost their dog have found him after more than 1,500 leaflets were handed out and £800 spent on a pet detective agency.
Peter and Joanne Henderson said Benji escaped from their van while they were delivering a parcel after work.
Mr Henderson said at first they did not realise Benji had escaped.
Eventually he was found 17 days later when a woman who had taken him in recognised him from a newspaper advert and contacted the paper.
The Hendersons believe Benji, a miniature German Shepherd, jumped out of the van as they delivered the parcel.
"We realised he was missing and turned round but when we got back (to where the parcel had been delivered) he had gone.
"We spoke to a few people but nobody had seen him. We tried a few posters but got no response.
"Then my son found this company of pet detectives on the internet. We contacted them and they came down from Herefordshire."
The team conducted door-to-door inquiries, posted more than 15,000 leaflets, organised search parties and staked-out areas where he had been spotted.
Eventually a woman found Benji and recognised him from a newspaper article.
"Without the agency we wouldn't have had the publicity," Mr Henderson added.
Clarissa Baldwin, from the Dogs Trust, said it was a wonderful ending to the story.
'Extremely intelligent'
"It's brilliant that they spent this money but there are other alternatives.
"Local authority rescue and rehoming centres are key to finding your dog.
"Put up posters, leaflet people's doors, ask at veterinary surgeons.
"Dogs are extremely intelligent so will often find their ways back to their favourite park so those are the sort of place to find them.
"Resist the temptation to chase after them as they get terrified if chased," she added.