New lock gates for Kennet & Avon Canal in Devizes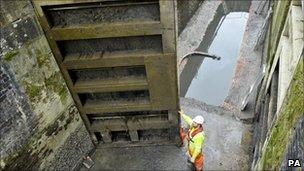 New lock gates have been hung on one of Britain's best-preserved waterways as part of a £1m project.
The handmade oak gates were installed at the Caen Hill Flight of Locks, near Devizes, Wiltshire.
The 16 successive locks form part of the Devizes flight of 29 locks which were engineer John Rennie's solution to climbing the very steep hill.
They were the last part of the 87-mile route of the Kennet & Avon Canal to be completed over 200 years ago.
The British Waterways project involves replacing four sets of bottom lock gates at locks 24, 25, 26 and 27.
At locks 35, 39 and 43 the bottom lock gates will be replaced and the walls between these locks rebuilt.
The wall in the pound above lock 28 will also be restored.
Mark Stephens, waterway manager for British Waterways, said: "The Kennet & Avon Canal is a wonderful waterway that showcases our industrial past alongside beautiful scenery and a great array of wildlife.
"It's also a massive engineering challenge to keep this piece of working heritage up and running for people to use and enjoy today.
"The Devizes Flight of Locks, including the spectacular Caen Hill Flight, celebrated its 200th birthday in December, so it's fitting that we are able to carry out such a massive maintenance project to help it look forward to a further 200 years."
The lock gates being removed are just over 20 years old and have reached the end of their natural lifespan.
Many of Caen Hill's lock gates have been reused and recycled. In 2010, sets of old lock gates were transformed into bridges and gateways at the Glastonbury Festival.
Related Internet Links
The BBC is not responsible for the content of external sites.