March in Salisbury in protest at spending cuts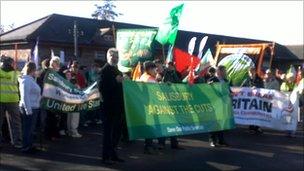 A protest march over local services spending cuts planned by the government is taking place in Salisbury.
Trade unionists and workers are walking through the city before meeting for a rally in Queen Elizabeth Gardens.
The event, organised by Salisbury Against the Cuts, is the first major one of its kind in Wiltshire since the austerity measures were announced.
They are demonstrating against job cuts across organisations including Wiltshire Council, the NHS and police.
According to the county's chamber of commerce, about a third of jobs in Wiltshire are in the public sector.
John Glenn, Conservative MP for Salisbury, said: "It's an incredibly difficult time and I understand people are very concerned.
"Essentially what the government's trying to do is get the country to live within its means and that means some tough decisions in the next couple of years to try and sort out the budget so we are not wasting money on paying interest on massive government debts."
Salisbury Against the Cuts is a wing of the TUC Wiltshire Public Services Liaison Committee.
It is supported by trade unions including Unite, Unison, the National Union of Teachers and the Fire Brigades Union.