Bristol 'coconut' councillor not standing in elections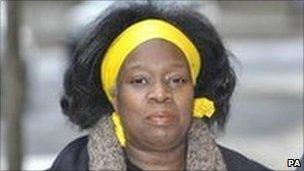 A Bristol city councillor who called an Asian colleague a "coconut" has decided not to stand in elections in May.
Liberal Democrat Shirley Brown used the derogatory remark against Conservative Jay Jethwa at a council debate in 2009.
Barbara Janke, leader of the city council, confirmed Mrs Brown would not be standing after eight years representing the Ashley ward.
Mrs Brown, who was the first black woman to be elected to the authority, could not be reached for comment.
The term coconut has been used to accuse someone of betraying their race or culture by implying that, like a coconut, they are brown on the outside but white on the inside.
Mrs Jethwa did not hear the insult during the meeting but watched it later on the council's webcast.
Mrs Jethwa had proposed to cut funding to the city's Legacy Commission, set up to educate people on the abolition of the slave trade, during the debate in February 2009.
The Conservative Party lodged a formal complaint about Mrs Brown's remarks and she apologised.
She was suspended for a month by the council's Standards Committee in July but this was overturned on appeal.
Avon and Somerset Police then received a complaint and Mrs Brown was prosecuted.
Mrs Brown was given a conditional discharge after being found guilty of racial harassment at Bristol Magistrates' Court in June last year.
She has appealed against the conviction, which is due to be heard at Bristol Crown Court next month.
Liberal Democrat Ms Janke said: "I would like, on behalf of the Lib Dem group, to thank Shirley for all her hard work.
"She took the seat from Labour in 2003 and, despite many challenges and attempts to discredit her, she has served the people of Ashley ward conscientiously, winning re-election in 2007.
"Shirley was the first black woman to be elected to Bristol City Council and we are proud of the work she has done for her ward as a Lib Dem councillor, including her campaign against knife crime.
"Shirley has decided after eight years to hand over the baton to a new candidate.
"But she is, as you may know, a church minister and will continue in that role, supporting people and the causes closest to her heart."
Related Internet Links
The BBC is not responsible for the content of external sites.