Wiltshire homeless people given survival packs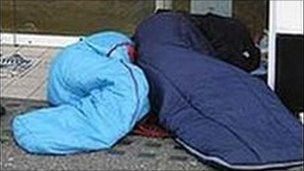 Survival packs containing everything from a smoke alarm to a tin opener have gone out to 150 homeless people in Wiltshire.
They are partly funded by Wiltshire Fire and Rescue Service who deal with a "large number" of fires in derelict buildings where people sleep rough.
The back packs, which cost £40 each, also contain items including a safety ash tray and a wind-up torch.
They were given out in Chippenham, Salisbury, Swindon and Trowbridge.
Jackie Tozer, the service's incident reduction manager, said: "We were seeing a large number of fires in derelict buildings, particularly in the Trowbridge area, so we were keen to stop that from happening or reduce it.
"That was why we came up with the initial idea to identify where the people were sleeping and to give them something that would help them reduce the amount of fires that were occurring."
Lisa Lewis, chief executive of Chippenham homeless charity Doorway, said she did not think the packs would stop rough sleepers seeking help.
"If they can get a good night's sleep with a sleeping bag and a roll mat they are far more likely to be able to deal with the stuff they need to do the next day, whether that be going to the CAB, going to housing or going to the job centre."
Michael Beckley, who was homeless for two-and-a-half years before moving to Wiltshire, said: "I think it's fantastic."
He said: "A lot of homeless and rough sleepers end up sleeping in derelict buildings where there is no electricity or running water, so the problem is very often they are using candles and they're also drunk.
"It's a very dangerous place, it was an absolute nightmare as you can imagine."
Related Internet Links
The BBC is not responsible for the content of external sites.