Fire in roof of Swindon's Mechanics Institute tackled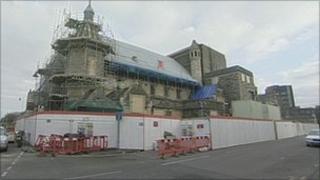 A fire in a derelict Grade II listed building in Swindon is believed to have started accidentally.
Firefighters were called to the Mechanics Institute at 1045 GMT after reports of a fire in the roof.
A Wiltshire Fire and Rescue Service spokesman said it was thought the blaze had been started by a gas canister.
"The fire was quickly put out and crews cut away part of the roof to check there were no burning embers," he said.
"The building is currently under renovation and due to this crews weren't able to go inside the building and they successfully extinguished the fire using external firefighting tactics.
"The crews who attended this incident brought the fire under control really efficiently, which prevented it from spreading and causing a more serious fire that could have involved part of the building we believe to contain asbestos.
"I'd like to thank the very observant passer-by who called 999 as this enabled us to respond to the incident while the fire was only affecting a relatively small area," the brigade spokesman added.
Swindon Borough Council took control of the building last July after a row over restoration.
It was granted the legal right to carry out urgent works.