Homes plan near Coate Water recommended for approval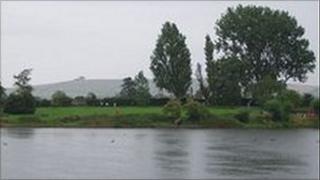 Plans for 890 homes near Coate Water, in Swindon, have been recommended for approval.
Campaigners against the scheme say they are worried that giving the houses the go-ahead would set a precedent for more development in the area.
But Councillor Peter Greenhalgh said the plans would protect Coate Water and provide space to expand the hospital.
The plans will go before Swindon Borough Council's planning committee on Tuesday.
The proposals for the land between the country park and the Great Western Hospital are a revision of previous plans to build 960 homes.
Developers had originally wanted to build 1,500 homes on 200 hectares of land, but scaled the project down following a public inquiry in 2009.
'Parking issues'
Councillor Chris Barry, vice chairman of Chiseldon Parish Council, said: "I know that the leader of the council approached the developers and asked for a written undertaking that they would not put forward any further applications to the west of Day House Lane towards Coate Water and they refused to do that, so I'm sceptical."
Mr Greenhalgh said: "This application is very different to the previous one and does actually provide protection to Coate Water itself.
"If you look at the plan it also includes space to expand the hospital and one of the things I'd like to see is the hospital dealing with their parking issues.
"This proposal could give them the potential to do that."
The application is being made by the Swindon Gateway Partnership which is comprised of Persimmon Homes and Redrow Homes.