Fitness instructor Donavan Van Lill 'killed in revenge'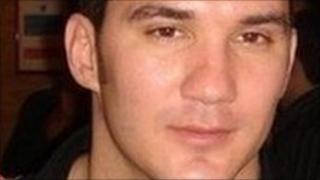 A swimming instructor murdered his friend in "an act of retribution or revenge", a court has been told.
South African Donavan Van Lill, 29, who lived in Chippenham, Wiltshire, was last seen on 3 March last year. His body has not been found.
Martin David Sugden, 42, of Clanville Bar, Stanton St Quinton, denies murdering Mr Van Lill.
Jurors at Bristol Crown Court were told Mr Sugden had meticulously planned the killing and disposal of the body.
'Perfect crime'
Fitness instructor Mr Van Lill was last seen alive by his girlfriend Radka Paulovicov at his home in Pewsham, Chippenham.
The divorced father-of-two was reported missing when he did not arrive at work at the town's Olympiad leisure centre the next day.
Jurors were told that Mr Sugden, who also worked at the leisure centre, was arrested on 19 March 2010 after police heard that he had confessed to his friend Jerard McKay to killing a South African man.
Christopher Parker QC, prosecuting, told the court: "We suggest that Martin Sugden killed Donavan Van Lill as an act of late retribution, revenge, which came from a sense of restorative justice.
"We say, you may think, a rather distorted and disturbed view of justice.
"He thought he was completely safe from detection and the perfect crime he had committed."
The court heard Mr Sugden, who had served in the Parachute Regiment, the French Foreign Legion and the Territorial Army, had gone on a three-week holiday to South Africa in 2006 with Mr Van Lill and another man called Mark Rogers.
'Unjust things'
The court was told Mr Sugden paid for the flights and Mr Van Lill still owed him some money.
Jurors heard that on the trip, they saw a group of men attacking a youth and Mr Van Lill, Mr Sugden claimed, had filmed it on his mobile phone.
"He was particularly upset by Mr Van Lill's cynical reaction to the attack on the young man," Mr Parker said.
"It appears he was also upset by other aspects of his behaviour, in particular his behaviour towards women and his attitude towards his own mother."
After Mr Sugden's arrest, police searched the home he shared with his parents and were said to have found a notebook called "Begin Again", the court was told.
Mr Parker said: "[It was] his views on how the world should be ordered and how people who do unjust things should be punished by people who would be Knight Priests of Good.
"The sword being taken to the unjust and the flame to the wicked by bastions of strength against evil and Knight Priests of Good."
'Shopping list'
Mr Parker said officers had also found a detailed plan of how to kill someone named as Donavan and dispose of his body.
He said: "This is a rudimentary shopping list or planning list or agenda for the murder of Donavan Van Lill.
"We say that the documents overall reveal a disturbing and disturbed pattern of thought from a much disturbed mind.
"It is a list of materials to carry out the killing of Donavan Van Lill, but partly it is the list of materials used to dispose of the corpse without leaving a trace of evidence."
The trial continues.