Sian O'Callaghan murder police search for second body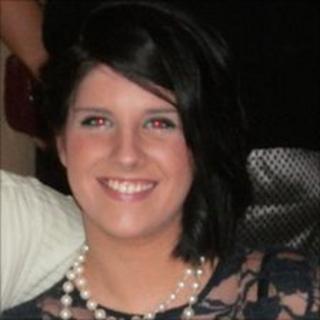 Police are searching for a second body after arresting a man in Wiltshire on suspicion of kidnap and two murders.
A body, believed to be that of missing Sian O'Callaghan, was found on Thursday in Oxfordshire and police said they knew the location of a second victim.
Miss O'Callaghan, 22, had not been seen since she left a nightclub in Swindon early on Saturday morning.
A man, named locally as taxi driver Christopher Halliwell, was arrested at a supermarket on Thursday morning.
Police said they had arrested a man at Asda in north Swindon's Orbital Centre and he had identified the location of two bodies.
Det Supt Steve Fulcher said he was "quite clear" that one of the bodies was Miss O'Callaghan.
He added: "I have informed Sian's family, who are obviously deeply distressed."
Earlier, Wiltshire Police suggested two bodies had been found, but the force later said the second person had not been recovered.
Miss O'Callaghan was last seen leaving Suju nightclub in Swindon on Saturday. Hundreds of people helped police search in Savernake Forest, near Marlborough in Wiltshire, from where a signal from her mobile phone had been picked up soon after she was last seen.
Police said the signal was picked up 34 minutes after the she left the nightclub and the journey could only have been made by car.
The body police think is Miss O'Callaghan was found by detectives searching near the Uffington White Horse chalk figure in rural Oxfordshire.
An area of the road and the verge has been sealed-off and was being guarded by a number of police officers.
Police vans arrived at a house in Ashbury Avenue, Swindon, and a white tent was put up in the front garden on Thursday afternoon.
Officers searched inside and outside the property and took items to a nearby van. A green taxi was also taken away.
Miss O'Callaghan, an office administrator, was filmed by CCTV cameras leaving Suju, in Swindon's Old Town area, after an evening out with friends.
Floral tributes, messages, teddy bears and a large number of scented candles have been left in front of the club by mourners.
A poster, surrounded by candles, read: "Sian, Swindon will sadly miss you."
Another message left at the scene said: "You were a great person and friend. I knew you for 15 years since Drove Primary School and we stayed in touch since. Will remember you're trademark BIG SMILE - was lovely.
"I'm so shocked, you only contacted me recently. Love you. Keep on smiling. Miss you."
Miss O'Callaghan lived in a flat half a mile away with her boyfriend Kevin Reape.
Mr Reape, 25, who had spent the day at Cheltenham races, raised the alarm on Saturday morning when she did not return to their flat.