Old lock gates turned into a bullring at Glastonbury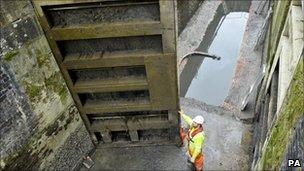 Old lock gates removed from the Kennet & Avon Canal are being turned into a bullring for this year's Glastonbury.
Gates from the Caen Hill Flight of Locks near Devizes are being used to create a mock "Campo Pequeno".
The "Portuguese Bullring" will be created using 70 of the 12 ft (3.6m) high gates "set up on end" in a circle.
The new 200-seat arena will host mock bullfights with an artificial bull, as well as offer an alternative temporary venue at the festival.
"We've got to do one new project every year, and this is it," said festival founder Michael Eavis.
"I've got 50 of these 10-inch-thick lock gates from Wiltshire and I need another 20 to build it - but it's going to be fantastic."
The gates, each weighing two tonnes, were removed from the Devizes flight of 29 locks in January.
At just over 20 years old, the huge structures had reached the end of their natural lifespan.
They have since been replaced as part of British Waterways' £1m winter works programme.
"The Kennet & Avon Canal was restored in the 80s and lock gates last about 15 to 20 years," said Gill Owen from British Waterways.
"As a result all the locks along the canal need replacing at the same time.
"At our yard in Devizes we've got lots of gates, it's like a lock-gate graveyard here."
With a policy of "reduce, reuse, recycle" British Waterways is keen to see the gates given a new lease of life.
In 2010, sets of old lock gates were transformed into bridges and gateways at the Glastonbury Festival.
This year, over 140 tonnes of lock gate are being transported to Worthy Farm to create the festival's bullring.
"It's going to have bullring seating with the lock gates going around and we're going to cut about eight or so medieval doors into it so it will have the same layout as a bullring," said Mr Eavis.
"I've got this bullfighter coming over from Portugal with a cape to fight an artificial bull in a mock bull fight.
"And with soundproofing from these lock gates from Devizes, soundproofing is really important, it's going to be fantastic."
Related Internet Links
The BBC is not responsible for the content of external sites.