Commercial plans for RAF Lyneham receive support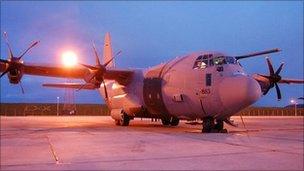 Plans to transform RAF Lyneham once it has been vacated in 2012 have received overwhelming support.
A local business consortium wants to build a theme park, heritage centre, snow dome and eco-village on the site.
At a recent meeting of Wiltshire businesses and organisations, just four out of 150 attendees voted against the commercial proposals.
But the government has yet to decide whether to carry on using the base for the army once the RAF leaves.
Service director for economy and enterprise at Wiltshire Council, Alistair Cunningham, said there were "problems" with the site being taken over by the army.
"It would be 2016 probably at the earliest, and that obviously leaves a gap that will be extremely damaging for Wiltshire in terms of the effect on the population and the economy," he said.
Wiltshire businessman Eddy Shah is heading the consortium that has drafted the "Plan B" commercial proposal for the Lyneham site.
He expects his plan for the site once its finished to attract around one million visitors per year and would involve adding a new junction to the M4.
He said: "It would be better for the economy long-term. I don't want to see Lyneham turn into a carcass.
"We're now getting a lot of involvement from the local community and we really now want to campaign to the prime minister saying, 'please can we have a decision by July as you've promised. Please tell us that either the military is coming in or that we need an alternative use for it.'"
Peter Bailey, from Christian Malford, was one of four people to vote against the plans at the meeting. He said: "There's lots to think about before rushing off and saying this is the best answer possible."
Related Internet Links
The BBC is not responsible for the content of external sites.