Man not guilty of murdering missing Donavan Van Lill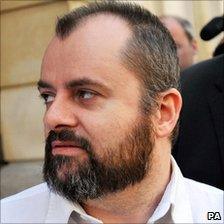 A Wiltshire man accused of killing his former friend after falling out with him on holiday has been found not guilty of his murder.
Ex-marine Martin Sugden, 42, spent a year in custody following the disappearance of Donavan Van Lill, 30, a South African from Chippenham.
His trial at Bristol Crown Court heard how Mr Sugden wrote a "shopping list" of items needed to carry out a killing.
Wiltshire Police said it would continue its search for Mr Van Lill's killer.
It took a jury at Bristol Crown Court more than 12 hours to reach its verdict after a month-long trial.
Last March the fitness instructor disappeared from his job at the Olympiad sports centre in Chippenham, Wiltshire.
Mr Sugden, who worked as a swimming instructor at the same centre, was arrested after the South African's disappearance.
The court was told how the men had fallen out during a holiday to South Africa in 2006.
During his trial the jury was told Mr Sugden wrote a list which stated: "Need to check weapon... cleaver, club hammer, bury very shallow grave, burn his stuff - burn my stuff."
In his defence Mr Sugden said he had written the list as a "fantasy" and had "no intention of killing anyone".
The Crown alleged Mr Sugden had killed Mr Van Lill four years after falling out during the trip to South Africa.
Despite extensive police searches, Mr Van Lill's body has never been found.
Appeals on Crimewatch and an internet campaign have all failed to turn up any trace of the missing man.
Speaking outside court, Det Ch Supt Kier Pritchard said the jury had decided on the evidence presented that it did not have grounds to find Mr Sugden guilty of murder.
"Our first thoughts are with Donavan's family and friends who we will continue to offer support as they come to terms with the impact of today's verdict.
"We will continue to explore all appropriate lines of inquiry including information that may lead us to the discovery of Donavan and finally allow his family, friends and loved ones the closure they desire so much.
"The CPS will continue to work closely with the police should further evidence come to light."
Related Internet Links
The BBC is not responsible for the content of external sites.