Salisbury Cathedral installs apprentice's stone cross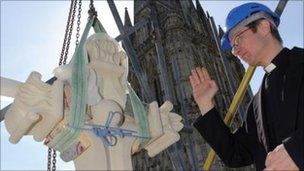 A stone cross carved by an apprentice mason is taking pride of place on Salisbury Cathedral.
The cross, carved from a single block of stone, took more than 200 hours to finish and is now on the north-east gable of the medieval cathedral.
As the stone was lowered, Canon Treasurer Mark Bonney said a short prayer to bless the cross.
Canon Bonney said the cathedral's continuing maintenance is an important part of the city's Christian witness.
"We're not conserving the building for it to be a museum piece but to be the springboard from which we go out from here and engage in the work in the world God wishes us to be engaged with," he said.
"Fixing a new cross, the symbol of our faith, in such a visible position high up on the cathedral where it can be seen by all is an historic event."
Head mason Chris Sampson said: "As part of the current restoration work on the north-east transept gable end, we found 531 stones needing replacement.
"The majority of which are functional architectural pieces essential for the integrity of the building.
"We also discovered that an ornamental piece was completely missing from the apex of the gable.
"This carving was itself a replacement of a missing stone and has been used as the reference for the new cross which has been worked by the cathedral's fourth year apprentice mason Andrew Kirby."
More than 250,000 people visit the cathedral each year to marvel at the peace and beauty of the 750-year-old building and admire Britain's tallest spire.
Related Internet Links
The BBC is not responsible for the content of external sites.