New bishop is appointed to Diocese of Salisbury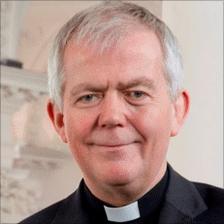 A London vicar described as a "rising star" in the Church of England is to become the first clergyman married to a divorcee to be made a bishop.
The Rev Nicholas Holtam, currently vicar of St Martin-in-the-Fields, has been approved by the Queen to take up the post of Bishop of Salisbury.
The Rev Holtam has been married for more than 30 years to his Quaker wife Helen, who had a brief first marriage as a teenager.
Her former spouse is still alive.
"I am honoured and delighted to be asked to become Bishop of Salisbury," said the Rev Holtam.
"I look forward enormously to becoming part of a great diocese with all the opportunities and challenges ahead, trying to draw people towards God and recognising Him at work in the lives of people in Wiltshire and Dorset."
'Truly wonderful appointment'
The Rev Holtam was strongly tipped for promotion after the General Synod of the Church of England paved the way earlier this year for the first divorced and remarried clergy to be consecrated as bishops.
The move also allowed clergy to be made bishops who are married to divorcees with a partner still alive.
The Dean of Salisbury, the Very Rev June Osborne said it was a "truly wonderful" appointment.
"The Diocese of Salisbury is immensely fortunate to have as its new bishop someone of such breadth and depth in his priestly ministry, and the Church of England will be better for having Nick Holtam in the House of Bishops," she added.
The Rev Holtam takes over the position from the Rt Rev Dr David Stancliffe who retired after 17 years last September.
Related Internet Links
The BBC is not responsible for the content of external sites.