Vodafone announces plans to close Trowbridge centre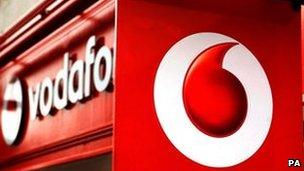 Mobile phone company Vodafone has announced proposals to close its contact centre in Trowbridge, Wiltshire.
Some 200 people will be at risk of redundancy as part of plans to relocate the jobs to Stoke in Staffordshire.
Spokeswoman Abi Bown said the changes were "about creating a lean and fast-moving organisation."
The Communication Workers Union (CWU) said the proposals were a "bitter blow" to employees.
Ms Bown said the company was making changes to improve and simplify the service offered to customers.
It had entered into a 90-day consultation with staff in Trowbridge, she added.
"We also want to ensure that people impacted by this are supported to find alternative roles, and that we give them as much notice as we can," she said.
A CWU spokesman said: "Staff at Trowbridge are devastated by Vodafone's news the centre will be closed.
"Many thought their jobs were secure after last year's round of redundancies at the site, so this news is a bitter blow.
"We are very concerned that some roles may be outsourced in this move as we have seen with Vodafone recently.
"This would inevitably mean lower wages and worse terms and conditions for staff while also having an effect on customer service.
"While we urge Vodafone to offer relocation packages to staff, we know that a move to Stoke-on-Trent is unrealistic for most people, meaning redundancy.
"Staff are understandably upset and we are urging the company to make employment considerations and staff relations a priority."
Related Internet Links
The BBC is not responsible for the content of external sites.