Cross-country running with dog inspires Swindon athlete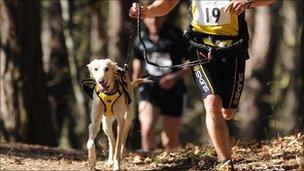 Cani-Cross is the sport of cross-country running while hitched to a dog, and is becoming increasingly popular in the UK.
Ian Reade from Swindon has been competing in Cani-Cross events for more than five years.
He has taken part in several national championships and is currently preparing for the European championships later this year.
Partnered with black Labrador, Jet, Mr Reade's form is improving all the time.
At a Cani X (Cani-Cross UK) event in Bagshot recently, he came first place in the 40-49 age group category.
He also extended his lead in the 2010/11 UK Championships, with his nearest rival lagging 400 points behind him in the league table.
But even first place in the 5.8km run at Bagshot was not good enough for him.
Mr Reade said: "It was a tough race because it was hot, but I would have liked to have been a minute quicker."
The next Cani X race to take place in Wiltshire is part of the Sarsen Trail on 1 May. Dogs and their owners can take part in a four-mile or 13-mile race.
Eileen Cook organises Cani X UK events around the country and said the courses have to be challenging for the runner and the dog.
She said: "The dogs like twists and turns and jumps. You have to pick Cani X courses very carefully so you have a good and interesting mix of terrain.
"If your surroundings have lots of interesting smells, that's always good for the dog."
There are lots of different categories in Cani X and even children accompanied by adults can take part.
Dogs have to be more than one year old to compete and there are strict guidelines to ensure the welfare of the dogs at all times.
Mr Reade really enjoys taking part and would encourage anyone with a dog to give it a try.
He said: "It's fantastic fun and the bond that I have with my dog is great. I love my dogs to bits."
Related Internet Links
The BBC is not responsible for the content of external sites.