Baby camel born at Longleat safari park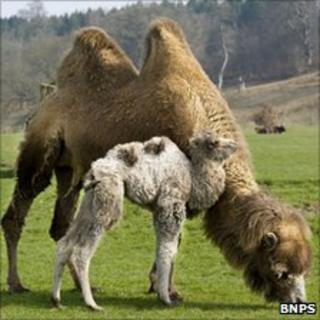 A baby camel has been born at Longleat Safari Park in Wiltshire.
Named Lemmy, the male Bactrian camel, the first to be born at the park in two years, entered the world on 8 March.
He was born weighing 66lb (30kg) to mother Bhali, 13, and nine-year-old father Khan following a 13-month gestation period.
There are now eight Bactrian camels at the park. The two-humped animals, endangered in the wild, are native to China and Mongolia.
Wild Bactrian camels are classified as critically endangered on the International Union for Conservation of Nature (IUCN) Red List, numbering less than 1,000.
There are millions of domesticated Bactrian camels in existence.