Salisbury pub fire still being investigated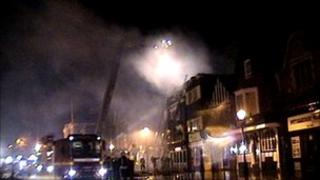 Three weeks after a major fire engulfed three buildings in Salisbury's Market Place, the cause is still being investigated.
The fire, which started in the historic Market Inn, was so severe that investigators have only been able to enter the properties this week.
It broke out in the early hours of 31 March.
Investigators said the extent of the damage meant the cause may never be known.
Ian Rennie, one of the fire investigators, said: "I'm reasonably sure that it's an accidental fire but beyond that we are looking at five or six potential causes.
"There's a possibility that due to the extent of the damage and the extent of the collapse that we may never know exactly how it started."
He said: "The damage to the structure has been quite severe. We've had three separate buildings involved and this has involved six separate businesses and a flat.
"The problems have been exacerbated by the fact we're talking about quite historic buildings - one of them is listed - and over the last 200 years the roof structures in particular have been added to and changed.
"The structure of all three rooves is timber, quite a lot of plastic Perspex roofing as well, and it's all at different angles and different pitches which has first of all made fire fighting very complex, but also added to the problems of fire spread which we couldn't deal with in the early stages."