Devizes green covered in five times more litter in sun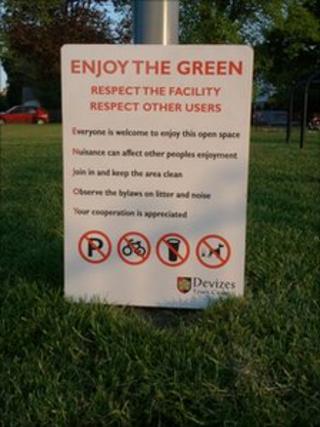 Litter collectors in Devizes say they are having to clear the town centre's green twice a day during the sunny weather instead of twice a week.
They say it is down to people not using the bins while sitting out in the sun.
Parks supervisor Michael Ayston said that instead of collecting one wheelie bin-full of rubbish a week they were now collecting five.
"When we have Devizes Carnival you expect a lot of rubbish. That's what it's looking like now, every day."
He said that while drinking alcohol was not allowed on the green it was still happening and drinkers were pushing their glass bottles into the ground so they cannot be seen.
"Of course my guys come along with their mowers and smash the bottles," he said. "It causes a lot of problems."
Mr Ayston said: "There are 16 litter bins on both greens and I feel that if you put too many you're going to spoil the look of the green completely."
He said he loved seeing people making the most of the green, but added: "All I would say to the people of Devizes is 'please use it but don't abuse it'."
Carole Berry, the town council's direct services manager, said litter picking was stopping her team from doing other work.
"If three of them have to spend three hours picking up rubbish on the green that obviously has a knock-on effect," she said.
"It means that other jobs aren't getting done - cutting the grass, clearing the memorials in the cemetery. It means our permanent staff are constantly playing catch-up."