Doors open at Wiltshire's Wellington Academy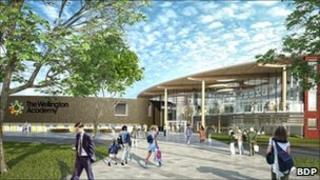 Wiltshire's latest academy school has opened its door to staff and pupils.
Wellington Academy, near Tidworth, is part of a £32m campus and is due to be completed by the end of 2011.
Facilities include a 300-seat theatre, sports and fitness centre, health and beauty spa, and an indoor shooting range. There are also twin boarding houses for 100 students.
Principal Andy Schofield said: "To walk into our stunning and unique school is truly inspiring."
"It really is something the community can all be very proud of," Mr Schofield said.
"I have no doubt the building itself will raise our student and staff aspirations still further.
"We know that we are very fortunate to get such investment, especially in the current economic climate," he added.
The building, designed by London-based architects BDP, has been designed to reflect the rural surroundings and provide space for students to socialise.