Wiltshire volunteers save hundreds of toads on road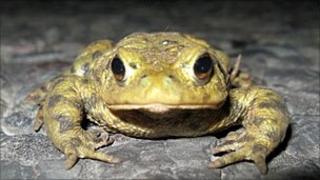 More than 180 migrating toads have been saved from a busy road in the Cotswold Water Park.
The new toad crossing point on the old A419 near Latton in Wiltshire was first discovered by a local resident.
The park's trust set-up crossing patrols to ensure as many of the toads as possible were rescued.
Over the spawning season, which runs from March to mid-April, hundreds of common toads migrate to breeding sites in the park's lakes and ponds.
Gareth Harris, from the trust, said: "Many toads become road casualties but the volunteers from Latton and Cricklade did a fantastic job braving the rush-hour traffic to support local toad populations.
"Toads often move quite long distances and must cross roads, so drivers can help too by slowing down at toad crossings."
To support these toads in the future, the trust is hoping to erect temporary "Toad crossing" road signs in the area.
It would also like to hear about other toad crossing points within the Cotswold Water Park.