Royal wedding app launched by Wiltshire company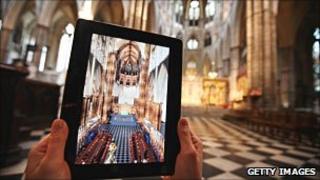 A 3D Westminster Abbey app for mobile phone users has been created for the royal wedding by a Wiltshire company.
The Downland Partnership in Devizes has spent the last four years scanning the 1,000-year-old church with lasers.
The resulting app claims it will enable users to walk to the altar in the footsteps of Kate Middleton.
Company director Tony Davies said: "We've been working with the abbey for years, building up an archive of data and that's made this project possible."
Opening at the Great West Door, the 3D tour takes mobile phone users down the aisle to the altar flashing up information about key areas of the abbey along the way.
"The 3D model includes the Chapel of Edward the Confessor where the couple will go to sign the register," said Mr Davies.
"It's one of the places that is off-limits because TV can't get in there and it's not open to the public."
The surveying company, which specialises in detailed surveys of historic buildings, took in excess of 1,000 laser scans recording 30 million points per scan to recreate the abbey.
The 30 gigabytes (GB) of data was then passed to an Essex-based company to be animated and "distilled down" for use on mobile devices.
"The abbey wants to use this technology in place of their audio guides," said Mr Davies.
"So the project for us is due to go on for another few years."