Sainsbury's store that cut down trees is boycotted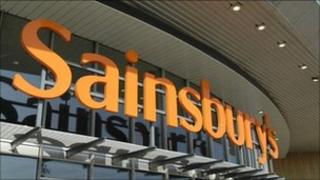 More than 2,000 people in a Wiltshire town have signed a petition saying they will refuse to shop at a supermarket which cut down hundreds of trees.
Sainsbury's on Bath Road, Melksham, cut down about 400 trees to expand its car park and move its petrol station.
Protesters said there would have been "an outcry" earlier if they had known the full extent of the plans.
But Sainsbury's said it had planning permission and was planting 1,500 new trees in the area.
Protestor Nigel Benham said: "The anger and shock and dismay throughout Melksham is very, very deep because nobody knew this was coming and if people knew this was going to happen there would have been a public outcry."
Jill Cardy, who runs the nature reserve the car park is partly expanding onto, said: "It used to be a wonderful green corridor from one side of Melksham to the other, starting with the nature reserve, going through lovely green space teeming with insects...and that's disappearing.
"It's going to be Tarmac."
'Address concerns'
A spokesman for Sainsbury's said they were given planning permission in November to extend the store and remove existing trees, small saplings and shrubs on the site.
He said tree surveys were carried out before the planning application was made, adding: "Both Wiltshire Council and the planning inspector considered the survey methods used and information submitted were acceptable.
"Approximately 400 trees of varying maturity were removed in accordance with both our planning permission and subsequent discussions with Wiltshire Council officers.
"When the extension work is complete we will have re-landscaped the area and planted over 1,500 trees of varying maturity."
The spokesman said they had met with Melksham Town Council, customers and colleagues to address concerns raised about the current approved landscaping plans.
"We'd like to thank these groups for working with us in a constructive manner, and we're looking forward to sharing our revised plans in the next few weeks," he said.
Wiltshire Council said no special permissions were needed as the survey showed no protected trees on the site.