Wiltshire gyrocopter crash pilot avoids party children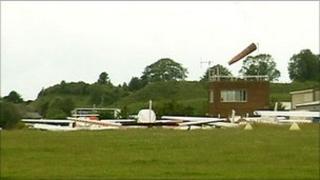 A gyrocopter pilot who died in a crash in Wiltshire, narrowly missed a nursery school celebrating the royal wedding.
Nearly 40 youngsters at The Griffin School, in Salisbury, were throwing a party on Thursday when the aircraft flew low over the roof.
Minutes later, the gyrocopter crashed in a nearby field and burst into flames, killing the pilot instantly.
Head teacher Christine Hind said it could have been very "different" if the aircraft had come down sooner.
The children, aged between two and four, were distracted from their street-party-style buffet by the noise of the gyrocopter.
Ms Hind, 57, said: "We didn't actually see the crash.
"We were celebrating the royal wedding. The gyrocopter went over the top of the school very low. We didn't realise it was in any difficulty.
"Some of the staff and children commented at the noise although they couldn't see it.
'Large bang'
"It did crash quite a way from us over the brow of the hill. It could have been a different story if it had been a little earlier."
The gyrocopter - which is a small, helicopter-like aircraft which generates lift using a free-spinning rotor - crashed near Old Sarum Airfield and caught fire on landing in a field off Hilltop Way in Bishopdown at about 1230 BST.
Eyewitness Peter Hancock, 60, who was in the garden of his home in Hilltop Way said: "I was in the garden when I heard a large bang.
"When I went outside there were two fire engines there and some police cars."
A Wiltshire Fire Service spokesman said: "A fire engine and an emergency support unit from Salisbury went to the scene, to find the gyrocopter well alight and the male pilot dead."
The Air Accidents Investigation Branch (AAIB) said it had sent an investigator to the scene.