Wiltshire council chief Andrew Kerr hands back pay rise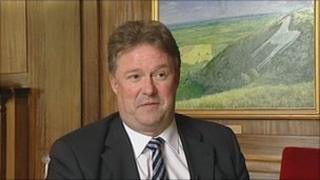 A council chief executive who defended his pay rise has now announced he will not accept it.
The public sector union Unison had called on Wiltshire Council boss Andrew Kerr to hand back the £6,000 incremental increase.
A council statement said Mr Kerr made the decision following recent media coverage and interest in his salary.
Unison said workers would be cynical that the announcement only came after publicity about him accepting it.
The Conservative-run authority is making £99m of savings over four years and 220 managers have already taken voluntary redundancy.
Mr Kerr had said on Monday that the complexity of his job justified his £189,000 salary.
'Not appropriate'
But a statement released on Tuesday said: "In light of the recent press coverage and interest in the chief executive's salary, Andrew Kerr has announced that he will not be taking his incremental pay rise this year.
"He has listened to the strong feelings expressed by council staff and Wiltshire communities and agrees that accepting an annual increment in the current difficult circumstances is not appropriate.
"Andrew values highly his relationship with all his colleagues and the community he lives in, and he is focused on delivering positive outcomes for the people of Wiltshire."
Unison spokesman Chris Howe said: "We can't do anything else other than welcome his decision, but I'm sure lots of workers will be somewhat cynical that it's come on the back of some bad publicity."
He added: "For someone on that level of salary it's more of a gesture than something that's extremely meaningful."
Mr Kerr, a former international athlete, took on the job of chief executive in February last year.
He originally said of his pay rise: "I've got 15,000 staff. This business turns over nearly £1bn a year. We deliver 350-odd different services. It's a big complex job which I believe justifies the salary that I earn."