Wiltshire gardeners toast wins at Chelsea Flower Show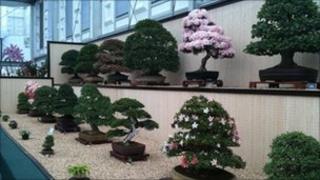 Horticultural organisations in Wiltshire are toasting wins at this year's Chelsea Flower Show.
The Swindon and District Bonsai Club won gold for the fourth year running, after contributing to a Federation of British Bonsai Societies display.
Bradford-on-Avon's Flower Arranging Association also picked up a gold award.
And Bradford on Avon's Westdale Nurseries and the Botanic Nurseries in Melskham both won silver awards.
Reg Boulton, of the Swindon and District Bonsai Club, said of their win: "It was absolutely brilliant to get the gold again."