Jonathan Edwards and Hannah Clegg plant Olympic tree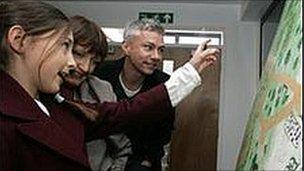 A girl who designed a "landmark garden" for the 2012 Olympics has been joined by Gold medallist Jonathan Edwards to plant the first tree.
Hannah Clegg, 12, of Sherston, Wiltshire was one of two selected to create a Great British Garden, in Stratford east London.
On Wednesday, she and Edwards planted a 20-year-old oak tree in the centre of the site near the Olympic stadium.
The garden is due to be completed by August to give it time to mature.
"It was quite hard because the garden is actually quite a difficult shape to put all our ideas into," said Hannah.
"The bronze, silver and gold sections were the focal points of my design and I've definitely got the three sections I originally hoped for."
The "three-ring garden" designed by Hannah includes a tree of golden acorns, a silver sundial and a bronze ball "floating on a single jet of clear water".
In November 2009, it was announced that Hannah's design was selected in the under-17 section of the Royal Horticultural Society (RHS) and London 2012 contest.
Since then she has been working with the Olympic Delivery Authority to finalise the plans for the 1,000 sq m (10764 sq ft) garden.
The final design will also incorporate the "spiral garden" design by Rachel Read, from Colchester, who won the adult section of the competition.
"It's going to be quite a long wait [for the mature garden] but I'm still really excited," said Hannah.
"It's been a really great experience working with all the designers and trying to find a really good design for the garden."
Related Internet Links
The BBC is not responsible for the content of external sites.