Tourist centre to be opened by woman in Marlborough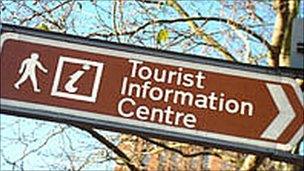 A Marlborough woman concerned with the closure of the town's tourist information centre is opening her own.
The visitor centre based in the town's library is due to be closed by the council at the end of May.
Wiltshire Council is withdrawing funding from local information centres to "channel resources into marketing".
Resident Val Compton, who admits to knowing nothing about tourism, says thousands of people have used the centre and still need it.
Ms Compton said: "There's obviously a need there and all I'm trying to do is facilitate a project.
"We've already found premises and we'll be hoping to offer a very similar but improved service to tourists."
Following a review of the county's visitor centres, Wiltshire Council decided to "redistribute" its funds to the VisitWiltshire Tourism Partnership to "raise the profile" of the county as a visitor destination.
The partnership, launched in 2008, brings together local authorities, accommodation providers, attractions, event organisers, restaurants and local food producers.
"The view was that greater value could be obtained by channelling resources into marketing as opposed to running local tourist information centres," said Peter Wheelman, the council's head of economic regeneration.
"We still value the provision of information at a local level and we're trying to encourage people in the community to come along and take an active interest in running these centres."
The volunteers are hoping to locate the tourist centre to St Peter's Church in Marlborough.
Related Internet Links
The BBC is not responsible for the content of external sites.