Titanic plan sells for £220k at Devizes auction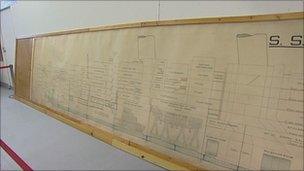 A plan of the Titanic used in the inquiry into the sinking of the ship in 1912 has sold for £220,000 at an auction in Wiltshire.
The 33ft (10m) cross-section was commissioned by the British Board of Trade to assist in the 36-day inquiry.
The plan hung in the hearing room throughout proceedings and is marked in chalk to indicate where the iceberg is thought to have struck the liner.
It was sold at Henry Aldridge & Son in Devizes on Saturday.
The plan had been estimated to fetch between £100,000 and £150,000.
The hand-drawn plan of the Titanic was prepared by White Star Line architects for the 1912 British inquiry into the sinking of the ship, just weeks after the disaster.
It allowed the 96 witnesses called to testify to indicate various parts of the ship using a pointer.
After the inquiry concluded that the loss of the ship had been brought about by "excessive speed", the unique plan was returned to White Star.
Since then it has been in private hands and, according to Henry Aldridge & Son, not been put on public display.
A Henry Aldridge & Son spokesman said the purchaser, a private collector, may well exhibit it in the future.
Related Internet Links
The BBC is not responsible for the content of external sites.