Fast Wiltshire broadband 'would encourage home working'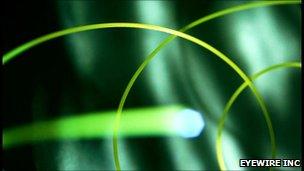 High-speed broadband will encourage more people to work from home, the deputy leader of Wiltshire Council has said.
On Friday it was announced the county would get £4m of government funding for super-fast broadband.
Councillor John Thomson said a large number of people living in the county worked elsewhere.
He said if they worked from home, traffic levels would reduce and they would spend more money locally.
Mr Thomson said: "We have a huge number of people who love living in Wiltshire but they all work outside Wiltshire so they commute out.
"If we can encourage them to do more home working and to do that they need the high-speed broadband to access their computer systems in the companies they work for."
The government announced that homes and businesses in four rural English counties are to get super-fast broadband connections.
Devon and Somerset will share £30m of government funding for the roll-out, and Norfolk will get £15m.
Each area will also get cash from their council and private investors.
A further announcement is expected later this year on super-fast broadband funding for every local authority in the country.
Related Internet Links
The BBC is not responsible for the content of external sites.