Wiltshire nature lovers asked to record local wildlife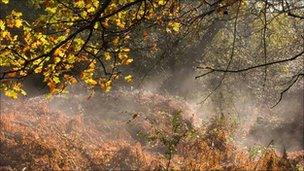 Nature lovers in Wiltshire are being asked to record the wildlife around them when they visit the countryside.
The initiative is part of a local survey being carried out by the Wiltshire and Swindon Biological Records Centre (WSBRC).
It is on behalf of the United Nations which has proclaimed 2011 as the International Year of Forests.
The UN wants to raise awareness of the importance of forest management and conservation.
It contains identification guides and recording forms to enable anyone with an interest in nature to record the woodland and wildlife they encounter in the local rural area.
Biological recorder at the Wiltshire and Swindon Biological Records Centre, Purgle Linham said: "We encourage people to record everything all around the county, and this time it will feed into an international initiative, which means that the local information is used globally.
"This is a great starting place for people to start recording. Hopefully they will be encouraged by this to record in other habitats around the county, and they will keep recording for us over the years."
Related Internet Links
The BBC is not responsible for the content of external sites.