RAF Lyneham's scripture reader brings god to the troops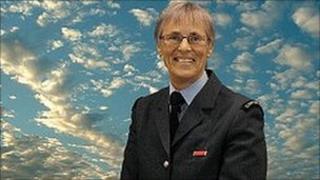 Meg Atkinson MBE is the scripture reader at RAF Lyneham.
She provides spiritual support for the service personnel and is hugely popular with all those working there.
Meg jokes that it is because she keeps her briefcase stuffed full of chocolate and sweets.
Recently Meg was asked to be the Princess Royal's stand-in for the rehearsals for her visit on 31 May, and enjoyed the chance to tease those on parade.
"Because of my ministry I know quite a bit about them so I was able to ask some searching questions," she said, admitting she'd teased some of the service personnel about their football teams.
Bible basher
Meg was awarded Membership of the British Empire in 2009 for serving the Soldiers' and Airmen's Scripture Reader Association at RAF Lyneham.
She said putting God at the heart of what she does is what makes the difference to her role at the base, but believes it is about being like Jesus, rather than being a Bible basher.
"I call myself the mobile vicaress because I just take my briefcase full of sweets and booklets and I just visit the places where the guys and girls work," she said.
But she added that it would be a mistake to force her faith on the people she meets on a daily basis.
"God's generally not on the top of their Christmas card list although he is mine, but I meet the troops where they are and I just roll on with them," she said.
"Through that I get some good questions, some good conversations but you can't go in all guns blazing about the Bible, you've got to connect with your troops where they are."