Councillor Ellen Osa suspended from Swindon Labour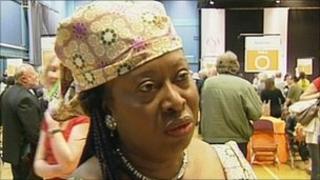 A woman who became Swindon's first female black councillor in May has been suspended from the Labour Party pending an investigation.
Ellen Osa took the Walcot seat from Conservative cabinet member Peter Mallinson at the last local elections.
A spokesman for the Swindon Labour Group said the investigation was into allegations about her conduct "in a personal capacity".
Ms Osa remains in her post as councillor. She declined to comment.
Councillor Jim Grant, leader of the Swindon Labour Group, said: "Councillor Osa's membership with the Labour Party has been suspended, pending further investigations.
"She will no longer hold the Labour Party whip on the council, and is not permitted to represent the Labour Party or hold office within the Labour Party until further notice."
A spokesman for Swindon Borough Council said the investigation was a party matter so they could not comment.
He said the suspension did not effect her role as a councillor, adding that she was now an independent member.