Wiltshire Police arrest 13 in major drugs crackdown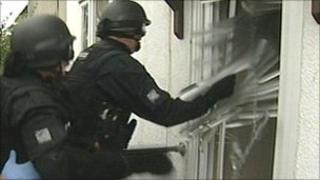 Thirteen suspected dealers have been arrested in the largest crackdown on drugs by Wiltshire Police in 10 years.
About 130 officers took part in Operation Diffuse, which targeted 12 properties in Swindon on Wednesday.
Eleven people were arrested in Swindon on suspicion of conspiracy to supply class A drugs, one arrest was made in London and one at Bristol Prison.
A policeman spokesman said that an increase in drug-related violence had led to the operation.
'Accumulating evidence'
During the raids, a bag of what is believed to be Class A drugs and £6,000 were discovered buried in the back garden at one address in the Moredon area of Swindon.
At a second address in the Park North area of the town, drug paraphernalia and what also appears to be drugs and £700 were recovered during the operation.
Acting Det Insp Jim Taylor, from Swindon CID said: "It's gone extremely well.
"We've been accumulating evidence and intelligence for a number of months."