Queen unveils Wiltshire sculpture at Ascot Racecourse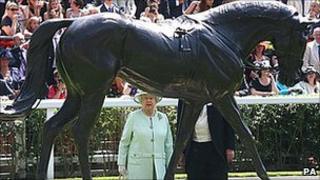 A statue by a Wiltshire sculptor has been unveiled by the Queen at Ascot Racecourse.
The bronze of Yeats, the only horse to win four Ascot Gold Cups, was created by Swindon based sculptor Charlie Langton.
The artist said it took more than 800 hours and a tonne of clay to produce his "first life-size" bronze.
The sculpture was unveiled by the Queen on the first day of the Royal Ascot meeting on Tuesday.
"I had to build a new studio specially for working on this scale," said Mr Langton.
"It is a very large space to keep warm and it was a constant battle against the cold to prevent the clay from freezing.
"Every night he was wrapped up in a New Zealand rug and sleeping bags."
'Ascot legend'
Last year, Mr Langton was commissioned to create the first perpetual trophy for the Epsom Derby.
He is currently working on a memorial for the Parachute Regiment & Airborne Forces which will be sited at the National Memorial Arboretum (NMA) at Alrewas, Staffordshire.
The unveiling of "Ascot's greatest equine legend" statue was part of the racecourse's tercentenary celebrations.
"I hope more than anything that my sculpture does justice to Yeats," said Mr Langton.
"Yeats is an Ascot legend and I feel extremely privileged to have been chosen to sculpt him."