Army rescues Marilyn Monroe statue on Salisbury Plain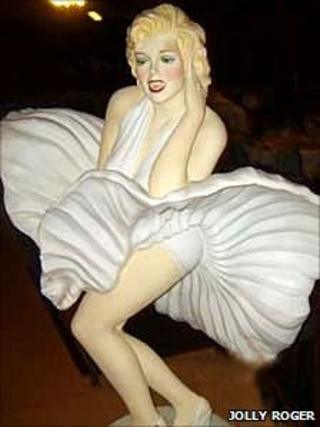 A 6ft (1.83m) statue of Marilyn Monroe has been rescued by the Army from Salisbury Plain.
The fibreglass statue of the Hollywood icon went missing from outside a shop in Devizes on Saturday, 4 June.
Missing for 11 days, Marilyn was discovered on Tuesday lying at the side of the road on Salisbury Plain by an Army patrol vehicle, police said.
The figure was returned to Devizes Light & Sound by a Ministry of Defence contractor on Tuesday.
"She was outside a second hand shop in Devizes," said Pc Richard Gardner from Devizes police.
"Someone had bought the statue and she was too big to go into the shop and the owner thought that no one was going to take her."
The statue, valued at about £300, went missing in the early hours of Saturday, 4 June.
It portrays Marilyn Monroe in the 1955 comedy The Seven Year Itch.
Weighing over 6 stone (36.5kg), it is thought that it would have taken at least two people to remove the statue.
Pc Gardner said: "I got a call from Westdown Camp security that they had her secured outside the back of the guardroom.
"Someone had realised that she'd been stolen and had brought her back to the camp to look after her.
"As far as I am aware she's been looked after very well and other then a broken finger, which seems to have been an old injury that's been repaired, there's been no new damage."