Wiltshire prison inmates build playground for visitors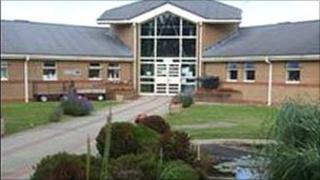 A new playground has been built by inmates in the grounds of a prison in Wiltshire.
The play area at HMP Erlestoke near Devizes has been created for children visiting family members at the prison.
Built opposite the visitors centre, the facility includes picnic benches, climbing frames and a willow tunnel.
It is hoped the area will provide a space to relax and help reduce the stress on children who are brought to the complex.
Deputy governor Paul Wiltshire said: "Prisoners are actually entitled to a half an hour visit once a month.
"That's the statutory entitlement and I can't stress enough how important it is, that quality time."
Prison unexciting
The new play area is part of an ongoing project with the children's charity Barnardos.
Tim Carter, from Barnardos, said: "The whole environment of a prison isn't an exciting or particularly pleasant one to come to normally.
"When prisons were set up they were set up to incarcerate people, they weren't really set up to be places for families to be involved and engage with.
"The more that we can do to make the initial welcome a positive one the better state people are in when they actually go into the prison for their short period of visiting time."
Barnardos and HMP Erlestoke have signed a new three-year agreement to support staff and offenders to "think family".