Wiltshire troops return home in time for Father's Day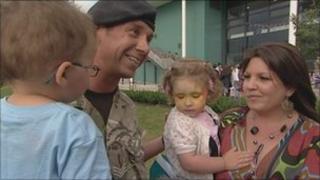 Soldiers from a Wiltshire barracks have returned home to families in time for Father's Day after a six-month deployment in Afghanistan.
The troops from 3 Division Headquarters and Signal Regiment were running the communication systems for commanders.
Major Alan Jenkins said the deployment of 74 troops was tough but successful.
"You have the challenges of working in Afghanistan and you have to use skill and innovation to make sure all the equipment works," he said.
"They have been responsible for maintaining the communications infrastructure and the radio and cabling system that goes with providing voice and data communications.
"The tour has been a huge success - our guys were tasked with upgrading the communications services.
"They've done a tremendous job."