Swindon school opens garden of memorial for students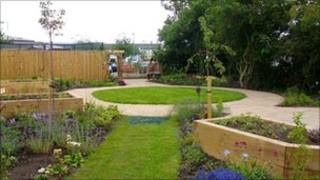 A school in Swindon has opened a special garden in memory of five pupils who have died.
Uplands School in Tadpole Lane caters for children aged 11-19 with severe learning difficulties.
Five of the school's students have died in unrelated circumstances in the past 12 months.
The multi-sensory garden, built to remember the children, was unveiled during a fun day and fete at the school at 1100 BST.
The garden includes a metal sculpture by local artist Gordon Dickinson, designed by the pupils to represent young people supporting and caring for each other.
The wheelchair-friendly green space also includes five trees with plaques dedicated to the childen who have died.
Headteacher Jackie Smith said the garden was "absolutely fantastic".
"We wanted to make something that could be somewhere the students could reflect," she said.
"It justifies the memory of those young people who have gone."