Residents want the Filton runway near Bristol preserved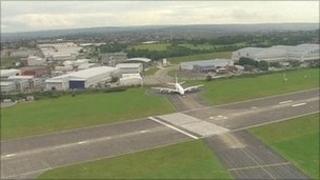 Residents who attended a public meeting to discuss the future of Filton airfield near Bristol say they want a dedicated aerospace park on the site.
The airfield site owned by BAE Systems is due to close at the end of 2012.
Up to 5,000 homes could be built on the site but residents say they want to see the runway preserved and the land used for the aviation industry.
More than 200 people attended the public meeting at the Filton Sports and Leisure centre on Friday evening.
It was the first time officials from BAE Systems and residents living on the perimeter of the airfield had met.
'Very emotive'
BAE Systems has said that the site is not currently for sale but that it is likely that regeneration will "include residential and commercial development".
Labour councillor Darryl Collins said most residents at the meeting were against the site being turned into a housing estate.
"You didn't dare mention the housing word it was very emotive," he said.
"There was serious concern in terms of housing and it was a view expressed that we've already got enough houses there.
"And as far as industry is concerned, with the amount of history and heritage that we've got in aerospace, there may be an opportunity there to develop an aerospace park of some sort."
Meanwhile, the wing manufacturer Airbus said it was committed to staying in Filton despite the airfield closing down.
Plans to keep the Concorde museum on the airfield site rather than move it to nearby Cribbs Causeway, were also discussed.
A previous version of this story incorrectly attributed Darryl Collins' quotes to Conservative MP Jack Lopresti.