Olympic course 'a challenge' to design for Wiltshire woman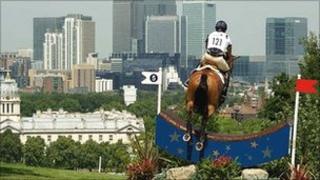 A Wiltshire designer who has created the equestrian course for the 2012 Olympics in Greenwich Park says it has been a huge challenge.
The cross-country course designed by Sue Benson from Eastcott, near Devizes, was unveiled at an event last week.
Created in London's oldest Royal Park, residents were concerned about the course's proximity to veteran trees.
The course, with views of the London skyline, has been well received by riders.
"It's been very intense," said Mrs Benson.
"In my whole designing career, this is the first time I've ever been given a virgin site that's never, ever been used for the same sport.
"I just had a clean sheet and it's been much more of a challenge because I've had to find out for myself how the terrain works."
'Very English'
Unveiled at a three-day test event last week, ahead of next year's Olympic Games, the cross-country course was well-received by riders but some people have protested against the park's use as a 2012 venue.
One of Britain's leading three-day eventers, Lucy Wiegersma, said Sue Benson had "really utilised the hills" to create a "real stamina test".
"We had such a small window to set the whole thing up," said Mrs Benson.
"It's been very intense."
The park is being transformed into a dressage arena, show jumping circuit and cross-country course to play host to all equestrian sports in next year's Olympic Games.
The cross-country course, when its finished, will confront competitors with 19 jumps.
"I want it to look very English," said Mrs Benson.
"The park's filled with so much history and I've had a lot of inspiration from the park and also from London so, yes, I think my course may tell a little story or two."