Chinese sky lantern blamed for Trowbridge house fire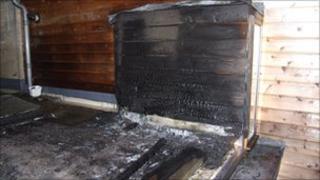 A family home in Wiltshire has been badly damaged in a fire caused by a Chinese sky lantern.
Anne-Marie Cobb, 40, from Trowbridge and her two children were asleep at about 1115 BST on Saturday night when the blaze started.
A lit paper lantern had landed on the flat roof of their partially-built extension and set alight some exposed insulation.
They were alerted by a neighbour who called the fire brigade.
Mrs Cobb said: "We'd gone to bed on a Saturday evening as normal and the next thing I knew one of the neighbours was banging on the front door and shouting that the house was on fire. So I got the kids up and we got out of the house as quickly as possible.
"We went out to the back of the house and saw that it was in flames."
A Wiltshire Fire and Rescue crew attended the scene and brought the fire under control. The remains of a Chinese lantern was later found on the roof.
'Real fire hazard'
Fire investigator Glyn Moody said: "In this case, the roof was under construction so the insulation was exposed, and it was this that ignited when the lantern landed.
"If you use these lanterns, you can't control the actual direction they take or where they will land - in addition, there is no guarantee that the fuel source will be fully extinguished and cooled when the lantern eventually descends, and that presents a real fire hazard."
Repair work has been estimated at £6,000 and Mrs Cobb is yet to find out if the damage will be covered by her house insurance.
She called for stricter guidelines when using sky lanterns to be put in place.
"I don't want to feel like a spoilsport, but I don't know how you can set them off safely given the potential they have to cause fires," she said.
"Perhaps people should have a licence or something to set them off to show that they've done a proper risk assessment."