Victorian water well found under bush in Swindon garden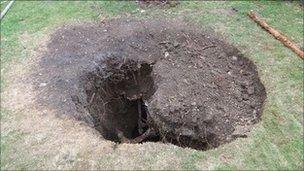 A gardener from Swindon has unearthed a 13ft (4m) deep Victorian well while trying to remove a stubborn stump from the soil.
John Marshall, who lives in Upper Stratton, said he had been part way through getting it out when a hole appeared under the bush's remains.
He said seconds later there had been a splash and, after more digging, the whole root had plunged into the hole.
It is believed the well was dug in the 1850s to water cattle.
Mr Marshall told BBC News he had used a pump to try to empty the well.
"I bought one of those pumps that advertises it can shift 7,000 litres of water in an hour.
"I had it running for hours and hours - we're taking thousands of litres that came out the well.
"The pump's been switched off for two days and the well's filled back already so I'm back to square one."
Mr Marshall said he had also found a bottle of whisky in the well.
But he added that he had no plans to drink it.
Related Internet Links
The BBC is not responsible for the content of external sites.