Radio One DJ Sara Cox voices talking bench at Stourhead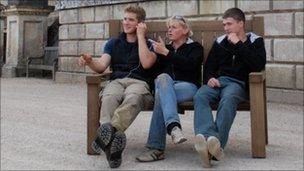 A talking bench featuring the voice of BBC Radio One DJ Sara Cox has been unveiled by the National Trust at the Stourhead estate in Wiltshire.
It is part of a national collection of benches which give visitors a short audio commentary via headphones in an effort to enhance the surroundings.
The Stourhead bench was inspired by Cox's affection for the landscape and the outdoors.
The DJ said she was "chuffed" to be part of the campaign.
"I love chucking the kids, the dog and a quickly thrown together picnic in the car and heading off into the countryside.
"I found the story of the house and the family really fascinating.
"Hopefully people will enjoy the bench and my witterings don't spoil the view," she said.
Stourhead house manager Emily Blanshard said: "The Stourhead gardens have been acclaimed round the world since they were laid out in the 18th Century but there are other great viewpoints around the estate which have an equal personal meaning for our visitors.
"People will be able to sit here in front of the house and look out across the meadow and the downs beyond to Whitesheet Hill.
"It is an important archaeological landscape and a key part of why the house was placed here.
"It is a peaceful and much loved viewpoint and we are grateful to Sara for sharing her love of the outdoors with the bench here."
The Stourhead bench is one of nine throughout the country, voiced by celebrities including Stephen Fry, Miranda Hart and Claudia Winkleman.
Related Internet Links
The BBC is not responsible for the content of external sites.