Swindon street lights to be switched off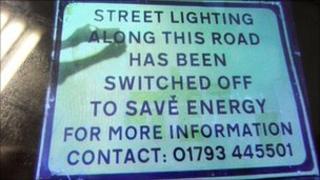 Street lights across Swindon will be switched off on Saturday to save energy and money.
Swindon Borough Council said more than 400 lights would be switched off at weekends as part of a 12 month trial.
The Conservative-led authority said the move would save more than £20,000 a year at current electricity prices.
Some of the roads affected include the Great Western Way, the Honda Link Road and Marlborough Road.
Councillor Peter Greenhalgh, cabinet member for transport, said the council were "among many councils trialling this idea".
"Swindon is not going to be plunged into darkness - most roads will be unaffected," he said.
"On those that are, we've been very careful to make sure the roads where the lights are being switched off don't have footpaths or cycleways and carry motorised traffic only. None are estate roads."
Removing fuses
The council is hoping that by "taking the fuses out" of 433 lights it will save more than £20,000 a year from its annual street lighting electricity bill of £600,000.
"We also looked at LED lighting," said Mr Greenhalgh.
"We looked at changing the timers but most of our street lights don't have timers they operate on a photocell, so if you upgrade the switch gear it's actually quite expensive."
The affected lights are on parts of Hillmead Drive; Peatmoor Way; Roughmoor Way; Tewkesbury Way; Mead Way; Whitehill Way; Purton Road; Great Western Way; Cirencester Way; Dorcan Way; Merlin Way; Marlborough Road; Honda Link Road; Highworth Road and Roundhills Mead in Highworth.