Funeral of Becky Godden-Edwards in Swindon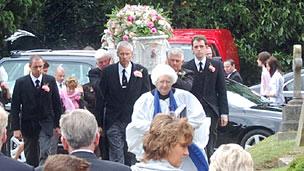 The funeral of Becky Godden-Edwards, whose body was found in a field in the Cotswolds, has taken place in Swindon.
The 21-year-old disappeared from her home in Shaw in Swindon in 2003.
Her remains were found in a shallow grave at Eastleach in Gloucestershire in March by police investigating the death of 22-year-old Sian O'Callaghan.
Hundreds of mourners attended the service at Christ Church in Old Town after her family decided to open the service to the public.
An entourage of six limousines and a pick-up truck filled with flowers brought her coffin to the church.
The coffin, with a wreath of flowers placed on top, was carried into the church followed by family and friends all wearing "a hint of pink" - Becky's favourite colour.
Lay Minister Margaret Williams, who led the service, said: "It's always an emotional time but this one is even more so because of the tragic circumstances of her death.
"All the time she's been missing, the family never gave up hope.
"So this, in a way, is their way of welcoming her home."
It was following the arrest of taxi driver Christopher Halliwell that police discovered Miss Godden-Edwards' remains in a field at Baxter's Farm in Eastleach, Gloucestershire.
He had been held by police investigating the disappearance of Miss O'Callaghan from outside a nightclub in Swindon on 19 March.
A service was also held at the crematorium for family and close friends.
Related Internet Links
The BBC is not responsible for the content of external sites.