East Wichel Primary School in Swindon opens its doors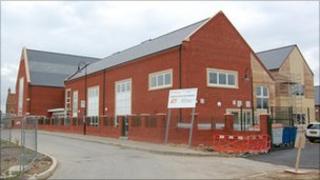 A new school in Swindon costing £6m has opened its doors to pupils.
East Wichel Primary School will serve children on the new Wichelstowe estate as well as the surrounding area.
Prior to the school opening, pupils were being taught at a temporary building at the nearby Croft Sports Centre in Old Town.
Head teacher Caroline Henman said she felt "very privileged" to be setting up a much-needed new school for the local community.
"We're addressing the needs of the town, she said.
"The Old Town area has very popular primary schools that are over-subscribed, which means a number of children cannot get their first choice places, so East Wichel is their next school."