Wiltshire pensioner travels 440 miles on free bus pass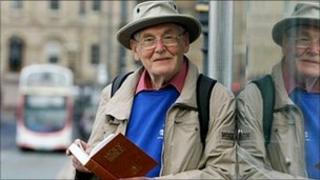 An 81-year-old retired church minister has travelled more than 400 miles from Edinburgh to Westminster using only his free senior citizens' bus pass.
Rev Brian Ranford from Highworth began his trip on the X95 service from Edinburgh to Carlisle in late June.
In eight days he managed to travel 437-miles (703 kms) on 33 local buses and raise £2,500 for the Bible Society.
Mr Ranford said "miraculously" every bus on his journey was on time and he made every connection.
The former minister set himself the challenge "to travel from Edinburgh to Westminster by bus as His Majesty [King James] must have done on horseback" to mark the 400th anniversary of the King James Bible.
Tuvalu Islands
The sponsored busathon took Mr Ranford through Carlisle, Durham, York, Lincoln, Cambridge, Oxford, High Wycombe and finally Westminster.
Despite mislaying his mobile phone twice and leaving his walking stick during an unexpected bus change at Malton in Yorkshire, Mr Ranford arrived in Westminster on schedule.
"It was remarkable - it would only have taken one bus being a little bit late to throw out the whole programme," he said.
"But miraculously every bus was on time and no connections were missed."
Mr Ranford is no stranger to adventure, in his 30s he worked for 10 years as a Bible translator in the remote Tuvalu Islands in the Central Pacific.
The money raised from his trip across Britain will help fund Bible translation work through the UK-based charity, Bible Society.
"When I was a child I always used to see how far I could go on the bus for a shilling" he said.
"I'm thrilled to have raised so much for Bible Society. It was far more than I dreamt of."