Edington Priory Church organ appeal over halfway there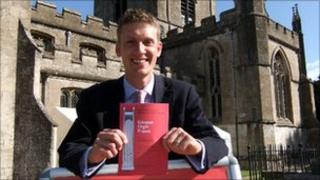 A Wiltshire church's appeal to raise £400,000 for a new organ is already over halfway there.
The Edington Organ Project has raised more than £230,000 towards its target which would provide a new pipe organ for the village's Priory Church.
Substantial pledges have been made by the Edington Music Festival Association, the Friends of Edington Priory Church and private sponsors.
Fundraising events, including concerts, are continuing to bring in money.
The church is well-known for a world-famous music festival which it has held every year since 1956.
'Adventurous'
However, festival director Ashley Grote said it is not just about providing a more professional instrument for that event:
"The organ here at Edington has served this church very well for more than 100 years, but when it was first put in the church in 1905 the builder could not possibly have imagined what goes on in Edington now.
"Now of course the kind of music that gets performed at the music festival here and even in parish worship has become more complex and more adventurous.
"It's not a question of need because we could keep patching up this one and it would limp along and carry on doing its job - it's about an opportunity to do something better and to give something better for the glory of God and actually to provide a legacy for the future.
"This is not about providing something for ourselves, but for providing something for congregations in the years to come."
Mr Grote hopes to raise the entire £400,000 within the next three years.
The organ will be built by Harrison and Harrison of Durham, one of the leading organ building and restoration companies in the world.