Wiltshire Council chief exec 'surprised' at redundancy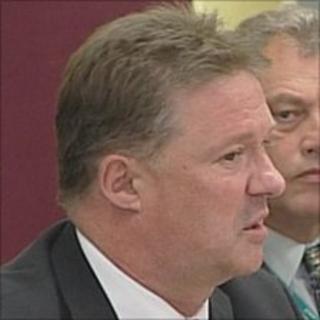 The chief executive of Wiltshire Council who is facing redundancy as part of a plan to reduce senior management costs says he was "surprised" at the decision.
Andrew Kerr, who helped the authority save more than £18m last year, has only been in the job for 18 months.
He said: "I believe that we've done a very good job and I believe that the chief executive in leadership model is the best for local government."
A two-week consultation is under way.
Under the proposals considered by the cabinet, one corporate director post will also be shed, reducing the number of corporate directors to three. Those three will then share leadership of the council in place of a chief executive.
Salary criticism
Mr Kerr's £183,000 salary was criticised earlier this year when the Conservative-led administration axed 220 managers, saving the authority £8m.
The chief executive disagrees with the latest proposals and feels there are better ways in which the council can cut costs.
He said: "I can understand the reasoning, but I think there are other ways of saving the money which would be better in terms of organisation than the way its been suggested.
"I fundamentally believe that the combination of having strong political leadership and strong office in leadership including that of chief executive is the best model. So it's a huge shift in philosophy in how the council is led, and it remains to be seen whether that will be successful."
Mr Kerr's appointment was seen as critical when he took charge months after the creation of the West's biggest local authority.
Wiltshire Council replaced a county council and four district councils and has an annual budget of more than £800m.
A council spokesman said the pressures on the council's budget both now and in the future were not to be underestimated.
"Next year the council needs to find additional savings as a result of the reduction in government grant, increased costs as a result of inflation, and the increasing number of older people requiring adult care services and young people requiring support."
A two-week period of consultation on the proposals began last week and the proposal and feedback will be considered by the council's cabinet in the week commencing 26 September.